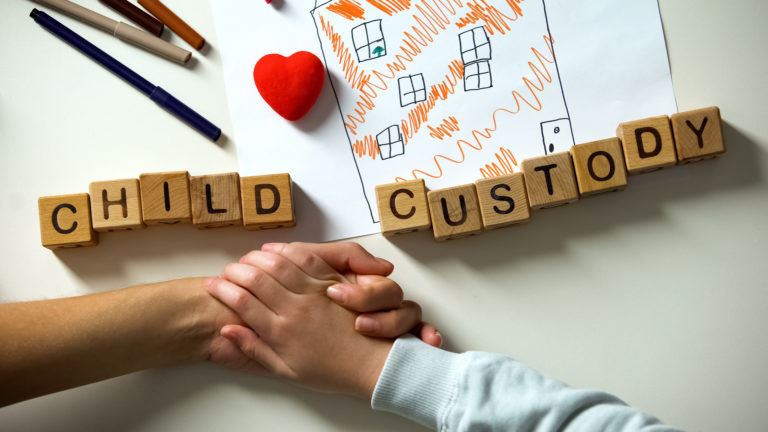 The issue of the custody of a child can be such an emotional and contentious one in a divorce that many parents will try to save the marriage and avoid separation merely for a child's sake. However, repairing a marriage is not always possible. When divorce is the best course of action for a family, parents will need to work together to determine what the custody arrangement of any shared children will be. At the Law Office of Lauren Cain, our experienced child custody lawyer can work with you to help you reach a custody agreement with your spouse. Please call us today to learn more about our Texas child custody legal services and how we can assist you.
Types of Child Custody in Texas 
In Texas, the state uses the term "conservatorship" to refer to the custody of a child. There are two primary types of child custody in Texas:
Legal custody. When both parents have full parental rights, they both have an equal opportunity to make decisions related to the child's wellbeing and lifestyle. For example, parents may be able to make decisions regarding the child's education, religious upbringing, extracurricular activities, etc. In a divorce, however, one parent's legal decision-making power related to a child may be revoked if special circumstances exist. Or, one parent may decide to defer to the other regarding certain decisions.
Physical custody. Unlike legal custody–where both parents may have custody simultaneously–physical custody refers to a situation in which a parent is responsible for providing for the physical care and wellbeing of a child. Parents may choose to split physical custody 50/50, or may agree to a different arrangement. It is rare for a parent's ability to spend time with their child to be completely revoked.
Creating a Parenting Plan in Texas
Before a divorce can be finalized, parents must work together to create a parenting plan. A parenting plan refers to an agreement–which will be approved by the court–regarding the physical and legal custody of the child(ren) in question. The parenting plan must also include details about how the child will be transported from one parent's home to the other's, what the schedule will be during the holidays and school breaks, how any disputes between the parents related to the child will be resolved, and more.
For some parents, working together to create a parenting plan is straightforward and collaborative. For others, though, this process can be extremely contentious.
If you and your spouse are not in agreement about the details of a parenting plan, the first step should be to work with a professional mediator. Only if the mediated session is unsuccessful and you and your spouse cannot reach an agreement should you attempt to resolve the dispute through litigation.
Litigating a Child Custody Case in Texas – Factors Considered By the Court
Ideally, you and your spouse will be able to form a parenting plan that you can jointly submit to the court. If this is not possible, though, then litigation may be your only option. If your case goes to trial, the judge will hear both side's arguments, and then will ultimately issue a determination. The ultimate decision of the court must be based on the best interests of the child.
In order to determine the child's best interests, the court will look at a variety of evidence, hear testimony from multiple witnesses, and consider the following factors:
The preferences of the child, if the child is of a reasonable age and maturity to express such preference;
The physical and emotional needs of the child;
Any physical or emotional danger to the child;'
The parental abilities of each parent;
The stability of each parent's home;
Any indications of parental unfitness; and
Any other factors that the court finds relevant.
Modifying a Child Custody Order
At the Law Office of Lauren Cain, our skilled child custody lawyer can represent you if you are seeking custody with your child. We can also provide representation in the event that you are attempting to modify a child custody order.
In order to modify a child custody order, you must first prove that you have grounds for the modification. While either parent may request a modification of a custody order, you must be able to prove that circumstances have changed in substantial way. For example, if one of the parents has remarried or been hospitalized, there may be grounds to modify an existing custody order.
Why It's Important to Work with a Skilled Family Law Attorney
As touched on above, child custody is undoubtedly one of the most contentious family law issues. If you and your spouse are not in agreement about what's best for your child, the issue can become highly divisive and negative for the mental health of both you and your child.
At the Law Office of Lauren Cain, we fully appreciate how sensitive matters of child custody can be. When you work with a skilled attorney, you'll have an advocate on your side to:
Explain the law;
Gather evidence to support your case;
Hire experts;
Build your case;
Advise you along the way;
Represent you in negotiations and mediation; and
When the consequences of a legal decision are so significant, working with an attorney is one of the smartest things that you can do.
Call the Law Office of Lauren Cain Today
If you are going through a divorce or are otherwise engaged in a legal proceeding regarding the custody of your child, our law firm can provide you with the support and guidance that you need. We are here to help protect your and your child's best interests, and will aggressively advocate for you both throughout the entire process. To learn more about our Texas child custody lawyer and what we can do for you, please call our law firm directly or send us a message at your convenience. We can start working on your case immediately.